Trasacco : Accra's Hallmark of Affluence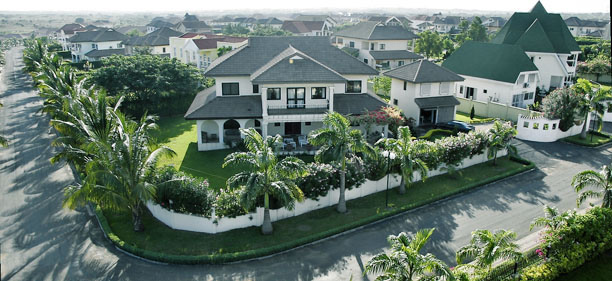 If you went into East Legon and took a right turn at the Islamic University Junction, after a few minutes you would find yourself in one of the plushest neighbourhoods in the whole of Ghana.
Covering an area of almost 600 acres in a natural but controlled environment, the community known as Trassaco is without a doubt one of the most popular and awe-inspiring neighbourhoods in Accra.
As such, it is no surprise to know that most of the residents who own property in the area are considered among the affluent and upper class of Ghanaian society. Trasacco's location is also an added bonus since moving from the neighbourhood to others such as East Legon, Spintex and other major parts of the city are quite convenient.
:
The planning and layout of Trassaco makes it one of the best planned quarter in Accra. This is partly due to the presence of numerous facilities and amenities which have been strategically integrated into the neighbourhood to ensure that residents live as comfortable as possible.
These facilities include recreational conveniences such as restaurants, as well as educational and health facilities. Other recreational services that can be found within Trassaco include golf courses, tennis courts and various parks which tend to the needs of the residents.
Security services in the neighbourhood are the highest class. Extra precaution is taken to ensure very tight security since the zone's strong association to affluence may make the residents targets to nefarious characters.
Buy the Most Secure and Elegant Houses in Ghana
Houses for sale in Trassaco are amongst the well-built and exquisitely designed in Accra. Mostly constructed from concrete blocks, these homes for sale in Trassaco come with a variety of finishes and amenities to ensure the comfort of residents.
Apart from connections to water and electricity which are the more basic of amenities, most of the houses and apartments in this neighbourhood come with extra amenities. These include standby generators, water reservoirs, air conditioners and many others. Some home sellers go as far as providing internet connection and satellite television.
If you are thinking of buying a house this area, you will have the opportunity of choosing from a wide variety. From 2 - 4 bedroom houses for sale to mansions for sale, and from empty houses to fully furnished houses. Some of the furnished houses for sale may even have kitchen equipment supplied.
Houses in this area command a very high price due to their location and quality of build. The typically cost anywhere from GH₵800,000 to as high as GH₵7,000,000. These houses certainly represent a solid investment for the potential buyer.